Elmore Leonard's 10 Rules of Good Writing
Leave out adverbs, skip description, and keep the writer out of sight.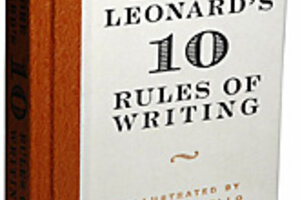 When my teenage son picked up Elmore Leonard's 10 Rules of Good Writing, it fell open to Rule 3: "Never use a verb other than 'said' to carry dialogue."
"I wish my teachers could read this," my son said. "They tell us not to use 'said.' They think other words make us sound better, like we have a bigger vocabulary."
Which is precisely Elmore Leonard's point: Good writing is not about the writer (and the way he sounds or the size of her vocabulary), but about the story.
The writer must remain invisible.
Leonard explains Rule 3: "The line of dialogue belongs to the character. The verb is the writer sticking his nose in… '[S]aid' is far less intrusive than 'grumbled,' 'gasped,' or 'cautioned.'"
Ditto for asseverated, a word that once sent him in search of a dictionary, thus breaking the spell of the story he was reading.
But just switching to "said" isn't enough. With tongue in cheek, Leonard spells out Rule 4:
"Never use an adverb to modify the verb 'said,' he admonished gravely. To use an adverb this way (or almost any way) is a mortal sin. The writer is now exposing himself in earnest, using a word that distracts and can interrupt the rhythm of the exchange."
Leonard would have writers scrap boring details like weather, scenery, and what characters look like. Pitch-perfect dialogue should bring the story to life: Who the characters are, how they feel, why they act as they do.
This book appeared originally as an article in The New York Times in 2001, titled "Easy on the Adverbs, Exclamation Points, and Especially Hooptedoodle."
---