In this mystery, a pig plays a leading role
Joseph Caldwell's whodunit is light on chills and thrills, but heavy on Irish charm.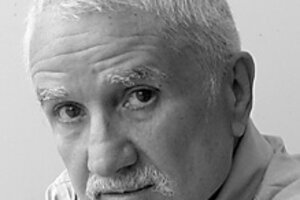 Courtesy of Jonathan Santlofer/HarperCollins
Lots of Americans vacation in Ireland. But Aaron McCloud is a little unusual, as tourists go. He hasn't come for the lush scenery, rich history, knitted goods, or to seek his ancestral roots. Instead, "Aaron McCloud had come to Ireland, to County Kerry, to the shores of the Western Sea, so he could, in solitary majesty, feel sorry for himself."
So opens Joseph Caldwell's sixth novel, The Pig Did It, a fizzy, free-wheeling farce that reads as if it's narrated by Garrison Keillor in a leprechaun suit. An overseas ticket is an expensive way to wallow in self-pity, but poor Aaron hardly gets time to ruminate over his lost love – the plainest, least-talented student in his writing class – before his plans, and his bus trip, are rudely interrupted by a herd of runaway pigs.
The passengers all disembark – "a frail elderly woman elbowed her way to the front with all the courtesy and consideration of a fullback" – to help round up the stray porcines and/or commentate from the sidelines. In the process, Aaron becomes attracted to the comely swineherd and misses the bus.
One of the pigs attaches itself to Aaron and follows him home to his Aunt Kitty's house, where it proceeds to wreck a shed, root up the vegetable garden, and uncover the shallow grave in which are buried the bones of Declan Tovey.
---