How Muslims, Christians met in a clash of worlds
Pulitzer Prize winner David Levering Lewis traces the impact of Islam on medieval Europe.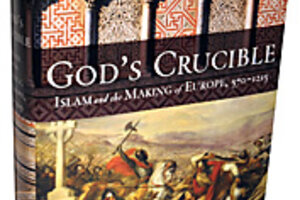 From its 6th-century beginnings in Arabia, Islam spread rapidly. Within decades of the death of its founder, the prophet Muhammad, Believers – as they called themselves – had conquered most of the region along the eastern edge of the Mediterranean and across North Africa.
By AD 711, they had taken their faith and empire into the Iberian Peninsula, where Jews and Christians then lived in relative harmony with their Muslim rulers. Here, the conquerors used the non-Muslim population's trading wealth as a tax-base to establish an efficient government administration.
Here also, under Ummayed rule (AD 756-852) the domestic stability supported a flowering of art and architecture, mathematics, and philosophy. God's Crucible: Islam and the Making of Europe is David Levering Lewis's chronicle of the wildfire spread of this new religion with its proselytizing imperative to convert or conquer its enemies.
Determined to extend their influence, the Muslims attempted to annex territories under Frankish rule. Over the years along this Spanish-French border, Christians and Muslims repeatedly clashed in what became an identity-forming conflict for the Franks.
Hitherto, the Franks, like other groups living in Europe, had little sense of national identity, nor was there any concept of a single European identity. Now, through these martial encounters, they and others loyal to Christianity and the pope, began to define themselves as "Christendom."
This period of peace and war is Lewis's primary focus. He examines military clashes such as the AD 732 battle in which the Christians repelled the Muslims at Poitiers and the fatal rear-guard action in 788 AD in which Christian warriors were lost. (The latter was enshrined in the 11th-century French epic, "The Song of Roland.")
---