The two writing Wilders
Laura Ingalls Wilder and her daughter Rose both knew the power of the pen.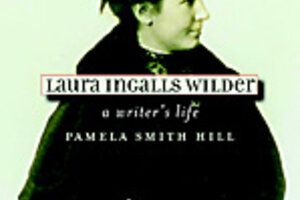 Courtesy of South Dakota State Historical Society
The "Little House books," as they have come to be known, have endeared themselves to countless readers since the time of the Great Depression. At the heart of the series is Laura, a plucky character based on the childhood experiences of its author, Laura Ingalls Wilder.
So the opportunity to peer into the author's adult life has long drawn the curiosity of her fans. Laura Ingalls Wilder: A Writer's Life by Pamela Smith Hill is an insightful visit with the woman who first captured what it meant to be an early young American.
While a handful of biographical books have already explored the "real" story of the pioneering Ingalls, and Hill does spend some time comparing fact with storytelling, what stands out in this book is Wilder's relationship with her daughter Rose Wilder Lane. Without plainly stating so, Hill explores claims of earlier biographers that Lane (most readers will remember her as Almanzo's and Laura's tiny tot) was the key to her mother's writing success.
Wilder's declarations amid her rising fame that she was simply an old farm woman setting down on paper her childhood stories wasn't the full picture. By all accounts, Wilder labored extensively with her writing. In her struggle to find her voice and audience she wrote continuously for newspapers and magazines. And it took her daughter's keen ear to help Wilder shape her novels. (For example, it was Lane who convinced Wilder to move away from storytelling in first person.)
---
Follow Stories Like This
Get the Monitor stories you care about delivered to your inbox.