The Bible – in surround sound
A number of audiobooks bring cinematic effects to readings of the Scriptures.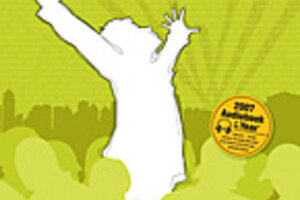 Courtesy of Zondervan
When actor Garrett Morris visited a studio to record his part in an all-African-American audio production of the New Testament, everyone assumed he'd do a fine job as King Herod. That is, until the original "Saturday Night Live" cast member found himself dethroned.
"He got through one half of a sentence, and I said, 'Garrett, I love you, but your voice is not King Herod,' " recalls senior director Chip Hurd, who promptly fired Mr. Morris from his part.
But Ms. Hurd, a veteran television actress, had some good news, of a sort, for Morris: "You know what your voice does sound like? Satan." An agreeable Morris gained a new role, and hundreds of thousands of listeners are now associating his voice – if not his name – with one devil of a character.
While his role is more villainous than most, Morris has plenty of company in Hollywood and beyond. Dozens of prominent actors, singers, and other celebrities have lent their voices to two new dramatized audio productions of the Bible, and their work is finding a large audience among those who listen on their iPods while cleaning house or in their cars while commuting.
Michael York, Marisa Tomei, and Luke ("Beverly Hills 90210") Perry, among others, star in an audio New Testament called "The Word of Promise." Released in October, it's been selling at a fast clip; the Old Testament is due next year.
---