The 1970s: when comedy met reality
Journalist Richard Zoglin tells how stand-up comedy changed America.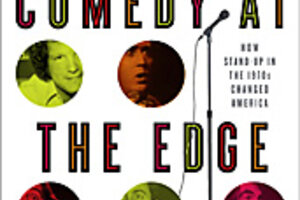 Courtesy of Bloomsbury Books
Comedy at the Edge
Author: Richard Zoglin
Back in 1977, more than two decades after the word "pregnant" stunned the censors of "I Love Lucy," dirty-mouthed comedian George Carlin performed his stand-up act on the small screen. Disclaimers appeared not once but twice, freezing the finale of his routine with an apologetic warning of what was to come.
The nervous-Nellie network behind this abundance of caution? A little start-up called HBO.
The show may have been a tipping point, the midpoint of a revolution. In between Bob Newhart and Chris Rock, Phyllis Diller and Margaret Cho, American comedy changed dramatically. It coarsened, expanded, and sharpened thanks to new freedoms. Gone were one-liners about nonexistent nagging wives, replaced by true tales of ghetto life, sexual frustration, and a certain seven dirty words.
"The old comics made jokes about real life. The new comics turned real life into the joke," writes journalist Richard Zoglin in his sharp, perceptive history Comedy at the Edge: How Stand-Up in the 1970s Changed America.
---