A Depression-era tale of privilege and poverty
Russell Banks's latest novel explores class structure within a closed Adirondack community.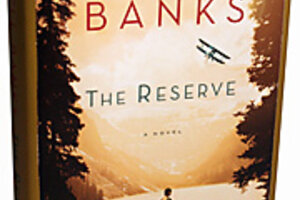 There's more than fireworks lighting up the sky on July 4, 1936. At The Reserve, an exclusive rustic playground for wealthy New Yorkers in the Adirondacks, divorced socialite Vanessa Cole watches as a seaplane lands in front of her parents' cabin on Second Lake, mildly disappointed because she secretly hoped the pilot was going to crash. (No, he's not a former boyfriend – just a famous artist coming to examine her dad's collection of paintings.)
Vanessa and the artist, Jordan Graves, are the unappealing duo at the heart of The Reserve, the new novel by Russell Banks ("The Angel on the Roof"). While it's a close contest as to which is the more self-centered, Vanessa wins the award for most mentally imbalanced in a walk.
That quickly becomes clear after her father, a wealthy neurosurgeon, has a heart attack later that night, and Vanessa becomes terrified for her future. Vanessa, Banks hints, may have good reasons to be afraid, and "The Reserve" takes its time chronicling whether the betrayals are real or delusions brought on by Vanessa's flickering hold on her sanity.
The thing is, "The Reserve" is so distant toward its characters – and really, who can blame it? – that it's difficult to become overly concerned about the fates of its pampered players, even when it becomes apparent that not everyone is going to make it out alive.
Banks does get off one terrific "Gotcha" moment, which I don't want to ruin here, but the strengths of "The Reserve" lie less in its plot, and more in its examination of class structure in a closed community.
---