Abraham Lincoln at the intersection of principle and politics
Two new books document Lincoln's difficult passage through the politics of race.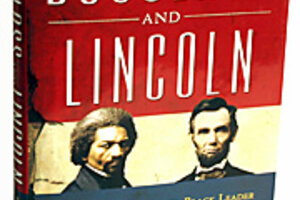 It's February, the month in which we celebrate President's Day, and so once again the stores are full of books about Abraham Lincoln. Among this year's crop are a pair with disarmingly similar titles – Douglass and Lincoln and Lincoln and Douglas.
The books treat two very different relationships – from separate vantage points – but study the same phenomenon: Lincoln's uneasy balance between principle and politics. Neither book celebrates Lincoln as a hero, but both depict him as an intelligent, caring man forced to find a way through the 19th century's ugly thicket of slavery, race, and politics.
In "Douglass and Lincoln" (about Lincoln's relationship with black leader Frederick Douglass) Paul Kendrick and Stephen Kendrick call Lincoln "a reluctant liberator." In "Lincoln and Douglas"(about Lincoln's famed debates with rival politician Stephen A. Douglas), Allen C. Guelzo depicts Lincoln as sincerely devoted to emancipation but restricted by politics.
Lincoln, Guelzo makes clear, was a politician who needed votes and was not above pandering to popular prejudices to get them. While abolitionist lecturers and antislavery journalists were free to condemn white supremacy, Lincoln was not.
---