Another Beatles book? Yes, maybe the best ever.
A new biography by Jonathan Gould chronicles the enduring impact of Britain's greatest export.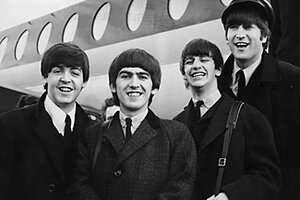 The Evening Standard/Getty Images
If there's one thing the world certainly does not need, it's another book about the Beatles.
Except this one.
While Christmas shopping a few months ago, I walked right past a brand-new Beatles book ... a first for me, for I am all about all things Beatle. Maybe it was the rather bland title and cover, or it might have been a feeling of maximum satiation brought on by reviewing Bob Spitz's 800-page Beatles opus a few years ago. It wasn't until a fellow Beatlemaniac recently waxed rhapsodic about Can't Buy Me Love that I finally stopped to pick up a copy. Remember the joy of opening all your Christmas presents and thinking you'd finished, then someone goes to the closet and emerges with one final, very special gift? Reading this book felt like that.
It was as if the very best had been saved for last. A nearly 20-year labor of love by a first-time writer, it's a fascinating, witty, and highly original take on Beatles music and mystique, and a worthy addition to "Beatle lit." If you happened to miss any of the 500-plus Beatles books before, not to worry – this will catch you up nicely. Author Jonathan Gould's long and winding road from concept in the late '80s to final publication last fall is a fascinating tale of its own (for details, listen to the author interview at csmonitor.com/books), but I'll stick to the book's compelling contents for this review.
---