Mount Vernon's checkered past
One woman's story exemplifies the complex history of a national monument.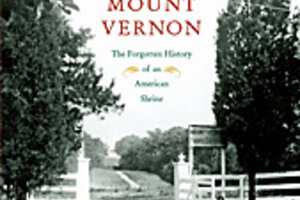 When George Washington passed away on December 14, 1799, 316 slaves lived at Mount Vernon. There is a general misconception that upon his death, all were freed.
In fact, in Washington's last will and testament, he bequeathed his slaves to his wife Martha, and upon her death he requested that they be emancipated. No doubt our heroic first president's heart was in the right place, but what was he thinking? Might not people who'd been promised their freedom upon the death of their owner try to precipitate that event prematurely?
Although there were sincere friendships between Martha and some of the enslaved African-Americans who lived at Mount Vernon, according to Abigail Adams, Martha "did not feel as tho her Life was safe in their hands." So, after rumors of an attempted fire, Martha freed them on New Year's Day in 1801.
That should be the end of the story; unfortunately, George Washington did not own them all. (More than half belonged to Martha Washington's first husband). When Martha died in 1802, the remaining "dower slaves" were divided among her four grandchildren. Some were sent to work on other estates, but many remained at Mount Vernon. In Sarah Johnson's Mount Vernon, historian Scott E. Casper lays bear the unique narrative of America's first sacred shrine, capturing the dizzying complexity of an early American community largely unrecognized and misunderstood. After all, Mount Vernon, writes Casper, is "a story not just of Washingtons but also of black people named Parker and Smith, Johnson and Ford."
---