Tantalizing hints of Shakespeare
A historian pieces together bits and scraps in an effort to re-create a chapter in the life of the Bard of Avon.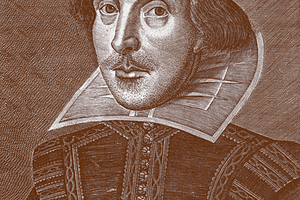 Courtesy of the British Library
What do we really know about William Shakespeare? Apart from his writing (if it is, indeed, his writing), almost nothing. And what an unhappy thing that's been for scholars throughout the centuries.
But Charles Nicholl (British historian, biographer, and travel writer) seems quite cheerfully prepared to do much with little. One of the few solid sightings of Shakespeare in the public record (discovered only in 1909) is his appearance as a witness in a trial in 1612. There, Shakespeare gave testimony – and left behind the only words that we know are his outside of his literary output.
It's still not much. But in The Lodger Shakespeare: His Life on Silver Street, Nicholl joyously seizes on "this unexpected little window into Shakespeare's life" and turns it into an excuse for a guided tour of a tiny pocket of Shakespeare's experience.
The trial was, truly, much ado about nothing – except to those involved, a family of French immigrants named Mountjoy. They were squabbling over the question of a daughter's dowry. Shakespeare was once a boarder in the Mountjoy home and apparently (as a favor to Mrs. Mountjoy, the bride's mother and Shakespeare's landlady) had helped to persuade the Mountjoy's young live-in apprentice to marry Miss Mountjoy.
Those hoping that Shakespeare will turn out to be a star witness will be disappointed. The aggrieved son-in-law is in court because he claims the girl's father never followed through with a promised dowry of £60. Shakespeare, he says, knew of the promise because he had mentioned the dowry as an inducement to wed.
---