Art, love, and one giant war
Pat Barker's 'Life Class' examines the place of art in a shaken world.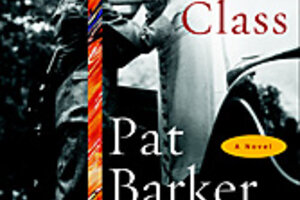 Courtesy of Doubleday
Life Class
Author: Pat Barker
Paul Tarrant is living his dream. Thanks to a legacy from his slumlord grandmom, the 20-something from northern England is enrolled at the prestigious Slade School in London, learning to be a "real" artist. Too bad he isn't.
Paul's teacher, the real-life artist and surgeon Henry Tonks, offers him a devastating assessment early on in Life Class, the new novel by award-winning writer Pat Barker: Paul has ability, but nothing to say. He's a technically accomplished void.
To make matters worse, Paul meets Kit Neville, a slightly older artist who has made a name painting the gritty, urban scenes Paul was surrounded by growing up, and which he escaped by painting pretty landscapes. To complicate things further, both men are preoccupied with the same woman, Elinor Brooke, another Slade student.
Paul, like any self-respecting artistic type, launches into a spiral of self-doubt and worry. But his existential crisis – and the love triangle – are rudely interrupted by the outbreak of World War I.
---
Follow Stories Like This
Get the Monitor stories you care about delivered to your inbox.