Tales from America's past
A roundup review of four new fictional takes on the 18th and 19th centuries, from the French and Indian War to the trial of Henry Ward Beecher in 1872.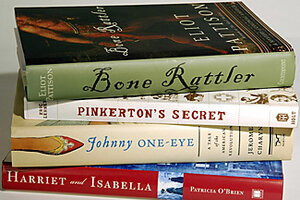 Joanne Ciccarello – staff
The French and Indian War, which swept through the colonies in the mid-18th century, usually gets only a couple pages in high school textbooks. But in Eliot Pattison's new book, "The Bone Rattler," that partially-forgotten conflict is used as a backdrop for a murder mystery of epic proportions.
And Patterson isn't the only one dispensing dressed-up history lessons. From the Revolutionary War to the Underground Railroad, here's a look at four fresh, fictional resurrections of America's past.
Harriet and Isabella, by Patricia O'Brien (Touchstone)
It would be a juicy scandal today: the most prominent preacher in America accused of adultery with a parishioner. In 1872, the trial of Henry Ward Beecher was a sensation, eaten up with glee by everyone except the traumatized principals. Those included the Beecher siblings, including writer Harriet Beecher Stowe. She and all but one of the Beechers circled the wagons, citing loyalty above all. That outlier, the suffragist Isabella Beecher Hooker, pleaded with Henry to confess and beg forgiveness, and the rest of the family cut her off for her betrayal. In 1887, Henry lies dying and Harriet and Isabella haven't spoken in 15 years. Stowe is the only one generally remembered today, but the Beechers were a family of preachers, abolitionists, writers, and activists, and O'Brien does a fantastic job of showing just how remarkable they were. Henry never quite comes to life the way his sisters do, and occasionally the "do you remembers" seem forced. But overall, the novel is a deeply intelligent and emotionally generous look at a trial that riveted a nation and upended a family. Grade: A-
---
Follow Stories Like This
Get the Monitor stories you care about delivered to your inbox.