The American obsession with food
An English professor examines America's 'gut-centricity.'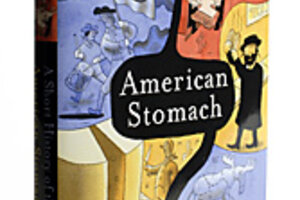 A Short History of the American Stomach
Author: Frederick Kaufman
Top TV celebrity chefs lick their fingers and glance coyly at the cameras even as they tantalize viewers with unattainable meals. The Food Network has 90 million enthusiastic viewers but if you ask Frederick Kaufman, professor of English at New York's City University, the shows are just another example of "gastroporn."
This is only one of the topics that Kaufman explores in his recent book, A Short History of the American Stomach. Although the current preoccupation with food seems to have reached a peak within the past 15 years, Kaufman makes the case that Americans have been obsessed with food ever since the Puritans stumbled off the Mayflower.
From the historical writings of Cotton Mather and William Alcott to the modern-day antics of on-air chefs, Kaufman dissects the country's fixation with its gut. His tastes are wide-ranging: eating contests at Coney Island, a lab genetically engineering Chesapeake Bay oysters, and an underground raw milk coven in New York.
---