Artists under the Soviet thumb
Solomon Volkov offers an insider's view of the struggle between culture and politics in 20th-century Russia.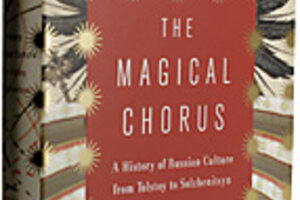 In the early summer of 1994, Alexander Solzhenitsyn returned to Russia after 20 years of exile. Staying with friends in St. Petersburg, I watched his progress on television: He flew first to Vladivostok and then took the trans-Siberian train westward, stopping in small towns and cities along the way to connect with the people. His arrival in Moscow coincided with steady rain, but thousands of Russians came to hear his speech. Excitement pulsed in the air.
My hosts had read Solzhenistyn's "Gulag Archipelago" in carbon copied typescript in the 1970s, made on an old typewriter with a dash substituting for the letter D. The sense of contrast between his public appearance and that old hidden life was stark.
Solzhenitsyn is one of the heroes in Solomon Volkov's new book, The Magical Chorus. The "chorus" is made up of dozens of writers, musicians, artists, dancers, and theater and film directors, each an important touchstone in Russian culture.
The subtitle is somewhat misleading. "A History of Russian Culture from Tolstoy to Solzhenitsyn" does not quite cue the reader to expect what Volkov immediately clarifies in the introduction: He wants to outline the struggle between "culture and politics" in 20th-century Russia, and the effect of this struggle on individual artists.
---
Follow Stories Like This
Get the Monitor stories you care about delivered to your inbox.