Arthur C. Clarke: an inventor of the world as we know it today
His imagination helped shape a vision of the future for millions of American readers.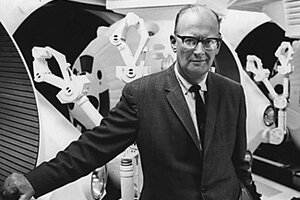 AP/File
Sir Arthur C. Clarke, who died on March 19, was a rationalist who combined a soaring imagination with a background in the matter-of-fact physical sciences. Despite his down-to-earth beliefs, Sir Arthur was fascinated with both the irrational and religious beliefs – even as he affirmed time and time again that he had no such beliefs.
While Isaac Asimov imagined how humanity might relate to his subservient robots, Sir Arthur created aliens so different from humans that communication was impossible. While Robert Heinlein wondered whether democracy and the nuclear family would survive, Sir Arthur moved from his native England to Sri Lanka to live a life of self-imposed exile.
Sir Arthur's service in the Royal Air Force during World War II gave him an entry into academia and the sciences that his working-class upbringing had denied him. After the war he earned a degree in math and physics but at the same time he began to sell science fiction stories to magazines such as Astounding, Cosmos, and Startling Stories. These first stories incorporated many of the lifelong obsessions that would make his name one of the pillars of our mid-to-late-20th-century view of the future.
In 1953, he published perhaps his two best works: a short story, "The Nine Billion Names of God," and a novel, "Childhood's End." Both involve religion and have mankind moving, as Sir Arthur saw it, up a step in the evolutionary ladder. They are both simple yet tragic and – particularly for newcomers to Sir Arthur's vision – mind-blowing.
Contact with the unknown
Sir Arthur was obsessed with the idea of our first contact with aliens. His best works were firmly based in rationality, but within them was always an element of the incomprehensible that would change the world forever. Over and over Sir Arthur told the story of humans meeting the absolute unknown and failing to communicate with it.
---