'Lavinia': Ursula Le Guin champions Vergil's neglected heroine
The book creates a rich backstory for the mostly forgotten wife of Trojan hero Aeneas.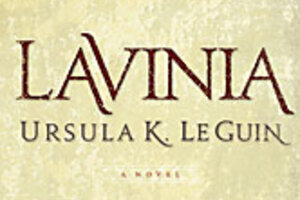 Courtesy of Harcourt Press
Classical pop quiz: Name the bride in "The Aeneid." Oh, I'm sorry. Dido is incorrect. (For those of you who checked the book information: no fair!) If the name escapes you, it's not surprising.
As epic maidens go, Vergil's Lavinia seems pretty forgettable to modern eyes. She shows up, blushes prettily when the gods decree she has to marry the Trojan hero Aeneas, and says nary a word. The only thing memorable was her hair, which caught fire in a mystical portent of war. (I'd like to see the Rachel pull that off.)
There's no clever trickery, à la Penelope; ill-fated prophesying, à la Cassandra; or heartbroken suicide, à la, well, Dido. And in Ursula K. Le Guin's new novel Lavinia, the princess is frankly fed up with the demure and silent thing. "He slighted my life in his poem," she says of Vergil (yes, Le Guin has chosen the more obscure spelling) her creator. "He scanted me...."
In one of the more impressive displays of feminist reconstruction since Margaret Atwood wrested Penelope out of the hands of Homer, National Book Award-winner Le Guin has rewritten the last six books of Vergil's epic poem to create a rich life of the mind for the Latin princess. Unlike Atwood's "Penelopiad," the novel, as Le Guin writes in an afterword, is a "love offering," and she writes with great affection for both the poet and his hero.
---