A guide to more mindful vacations
A list of travel destinations in peril – and how we can help.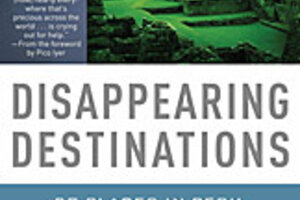 Courtesy of Knopf
Chances are you've visited – or plan to visit – one of the tourist meccas in Disappearing Destinations: 37 Places in Peril and What Can Be Done to Help Save Them. Twelve are located in the United States, including Yellowstone, the Everglades, the Great Smoky Mountains, Napa Valley. Others may be on your to-do list: Machu Pichu, the Dead Sea, Galápagos Islands. This book explains the science behind the scenery and shows how these natural wonders hang in a dangerous ecological imbalance.
Although the foes are both natural (global warming, rising seas, acid rain) and human (mining practices, overtourism, stubborn politicians), the scientific data presented in each of the 37 chapters make it obvious that even the "natural" enemies have their roots in human (mis)behavior.
For example, as sea levels rise, beaches shrink in North Carolina's Outer Banks and Hawaii's Oahu. And demand for beachfront housing is booming, putting an even greater strain on ever-shifting sandy beaches. Yet the cure is making things worse: Man-made sea walls designed to stanch erosion are instead speeding it up, according to experts in this book. Our collective "footprint," it seems, is just too big.
Even in pristine areas, like remote areas of Australia's Great Barrier Reef, the effects of global climate change are more far-reaching than scientists anticipated. Whole swaths of coral have succumbed to "bleaching," as a result of acidification as the ocean – and coral – absorb too much carbon dioxide.
---