Review: 'The Secret Adventures of Charlotte Brontë'
Laura Joh Rowland imagines the Brontë sisters as crime solvers in a mystery that doesn't exactly reach wuthering heights.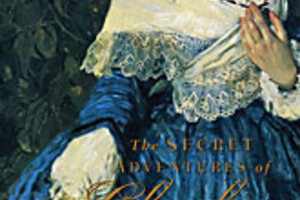 Courtesy of Overlook Press
If there was anyone less likely to be a spy than frail, nearsighted Charlotte Brontë, it was her shy sister Emily. Yet well-regarded mystery writer Laura Joh Rowland has sent both undercover in "The Secret Adventures of Charlotte Brontë."
Rowland begins the action with a real event: Charlotte and Emily, who have published "Jane Eyre" and "Agnes Grey" under pseudonyms, travel to London in 1848 to resolve a breach-of-contract allegation with Charlotte's publishers. On their way, they meet up with a fleeing governess who is subsequently murdered. Determined to find the killer, Charlotte and her family turn detective with the help of a dashing young Foreign Service agent. Brontë aficionados will enjoy the frequent biographical touches, but the plot becomes too far-fetched. (Reality check: There's no way a spinster would travel solo to another country with a single man or be allowed to witness a violent police interrogation.)
Charlotte's fictional double life was inevitable, I suppose, since Jane Austen has been solving crimes for ages (apparently being a literary genius at a time when women's educations were indifferent at best is no longer enough of a leap for a parson's daughter). But if Mrs. Elizabeth Gaskell breaks out a deerstalker and a magnifying glass, I'm out of here. – Yvonne Zipp
---
Follow Stories Like This
Get the Monitor stories you care about delivered to your inbox.