On the dusty road to redemption
In Leif Enger's 'So Brave, Young, and Handsome,' an outlaw and an author hit the road on a quixotic quest.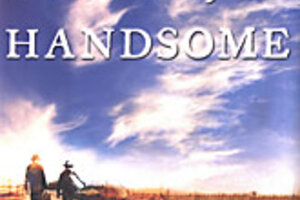 In terms of literary chutzpah, writing your sophomore novel about a sophomore novelist is the kind of thing that tends to send eyebrows arching skyward. Maybe not as much as titling it "Winner of the National Book Award," as Jincy Willett once did, but still, it's a bold step. But with one move, Leif Enger defangs impending snarkiness with the deftness of a snake handler: He makes his character, Monte Becket, a failure.
"I am not penniless, brilliant, or an orphan; have never been to war, suffered starvation, or lashed myself to a mast," Monte explains humbly at the opening of So Brave, Young, and Handsome. "My health is adequate, my wife steadfast, my son decent and promising. I am not surrounded by people who don't understand me! In fact most understand me straightaway, for I am and always was an amiable fellow and reliably polite." It's a miracle he ever managed to write a word.
Enger's first novel, in 2001, was "Peace Like a River," a book with which I was so smitten that it rendered me incoherent. It was years before we could keep a copy of it in the house – I kept thinking of someone else who needed to read it. Miracles, faith, world-class cinnamon rolls, and epic cowboy poetry. Who could want anything more?
---