Global warming: What can we do?
A pair of new books offer solutions on climate change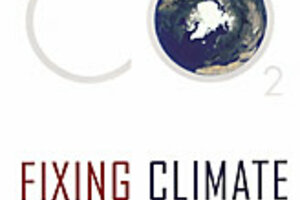 Writing about global warming has changed a lot in the past few years. This is not because the science itself has changed – but because political reaction to it has.
It seems that we have, at long last, moved beyond denial and inertia. The time for books that explain what global warming is and why it matters has come and gone. The need now is for answers to the one question that really mattered all along: What do we do about it?
Two current books examine the evidence and come up with a series of similar proposals. Each is coauthored by a prominent scientist and an accomplished science journalist and both make worthy additions to global-warming literature. But they go about it in very different ways.
Some environmental activists may be tempted to stop and savor for a moment the fact that the Bush administration and its climate obstructionists will soon be gone. But make it a brief moment, warn Gabrielle Walker and Sir David King, authors of The Hot Topic: What We Can Do About Global Warming. The long moment we've already taken between the first realization that burning fossil fuels would cause dangerous warming and our present state of modest concern have cost us.
Thanks to political foot-dragging and ever-increasing carbon emissions, they say, the best we can hope for now is to avert worst-case scenarios.
---