China's eccentric champion
Joseph Needham put Chinese science on the world map.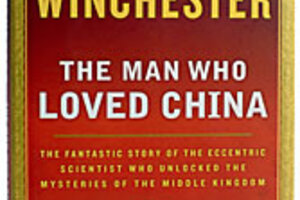 "Four thousand years ago, when we couldn't even read, the Chinese knew all the absolutely useful things we boast about today," wrote French philosophe Voltaire in 1764. But if today in the West we widely acknowledge those words to be true, that's largely due to an Englishman.
Joseph Needham, a brilliant Cambridge don, was a "bespectacled, owlish, fearless adventurer ... a nudist, a wild dancer, an accordian player, and a chain-smoking churchgoer." He was also the man who dragged China's reputation in the West from the dustbin ("this booby nation," as Ralph Waldo Emerson called it in 1824) to its rightful place as a principal forger of human civilization.
Needham is the subject of The Man Who Loved China by Simon Winchester, former journalist and bestselling nonfiction author ("The Professor and the Madman," "Krakatoa," and "The Map That Changed the World.") Winchester stumbled on Needham's name while researching another project and was surprised to realize that he knew nothing about the eccentric professor who had authored a massive, multivolume encyclopedia called "Science and Civilisation in China."
---