The e-reader generation speaks about e-books
A young e-reader believes books are a "thing of the past."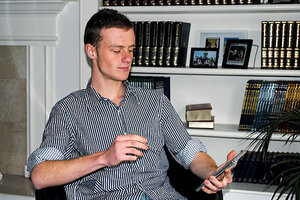 Stephen Christie/ Blyth Academy
"It's a generation thing. I give it another few years and books are going to be a thing of the past," says Michael Tyrrell, a member of the first generation of people who read almost exclusively on e-readers. The 18-year-old senior at Blyth Academy in Toronto has had a school-issued Sony Reader Touch Edition since October. He loves it and told the Monitor's Julie Masis why, by phone from his school. Here are excerpts from their conversation.
What are the advantages of an e-reader over a regular book?
The weight could be the biggest thing. I can keep all my textbooks on it instead of carrying 60 pounds of textbooks. I still have back problems from carrying around textbooks. If I don't understand a word in the textbook, all I have to do is double-click on the word and get a definition. I can take notes as well. Press the options button and you can bookmark the page, you can highlight, and you can actually handwrite on the page. The biggest thing is it's really easy on your eyes, so you can sit down for four hours and read and get up and your eyes don't feel pain at all.
What are the disadvantages?
[One] disadvantage would be if I lost it. The books would still be on my computer, I would just have to pay [to replace it] myself. [The school initially provides the e-readers to students. Students pay if they lose them. But because students download the books from the Internet onto their computers before loading them to their e-readers, they wouldn't lose the books even if they lost the e-reader.]
[Another disadvantage] is the pages aren't in color.
---