The Art of a Beautiful Game
A sports journalist highlights all that is best in the NBA.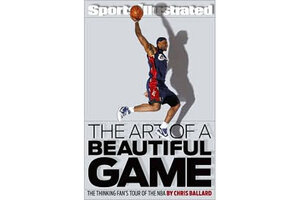 For all the sports fans who have written the National Basketball Association off in the decade since Michael Jordan abdicated his throne with the Chicago Bulls, Chris Ballard has a bit of advice: Take a closer look.
Fans and media routinely dismiss the NBA as a league filled with monster egos, lazy fundamentals, powerless coaches, and selfish players obsessed with scoring "SportsCenter"-worthy dunks at the expense of making a crisp pass or fighting for a key rebound. All of which is true, but only to a degree.
Ballard covers pro basketball for Sports Illustrated, and he has studied the game for its attributes as well as its faults. In The Art of a Beautiful Game, he makes a compelling case for professionalism and attention to detail within the NBA. And he does it in the best way, by showing us rather than telling us. From profiles of megastars such as LeBron James and Kobe Bryant to the secrets of ace rebounders, sharpshooters, and even an NBA trainer, Ballard makes the routine aspects of basketball come to life in interesting ways.
His technique is reminiscent of Michael Lewis or Malcolm Gladwell in that Ballard never accepts conventional wisdom without doing his homework first. A great example that will shock all but the most hard-core NBA fans is the notion of shooting frequency and accuracy. Ask an average sports fan whether today's pros shoot more than their predecessors and it's all but guaranteed the answer will be an unequivocal yes, followed by carping about how selfish contemporary players have become.
---