Bestselling books the week of 4/29/10, according to IndieBound*
What's selling best in independent bookstores across America.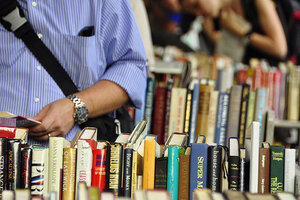 Photo by SpecialKRB/Flickr.com
HARDCOVER FICTION
1. The Help, by Kathryn Stockett, Amy Einhorn Books/Putnam
2. The Double Comfort Safari Club, by Alexander McCall Smith, Pantheon
3. This Body of Death, by Elizabeth George, Harper
4. Deliver Us from Evil, by David Baldacci, Grand Central
5. Imperfect Birds, by Anne Lamott, Riverhead
6. Every Last One, by Anna Quindlen, Random House
7. Matterhorn, by Karl Marlantes, Atlantic Monthly
8. Solar, by Ian McEwan, Nan A. Talese
9. Beatrice and Virgil, by Yann Martel, Spiegel & Grau
10. Major Pettigrew's Last Stand, by Helen Simonson, Random House
11. Anthill, by E.O. Wilson, Norton
12. House Rules, by Jodi Picoult, Atria
13. Bite Me, by Christopher Moore, Morrow
14. The Lake Shore Limited, by Sue Miller, Knopf
15. The Mapping of Love and Death, by Jacqueline Winspear, Harper
ON THE RISE:
16. A Question of Belief, by Donna Leon, Atlantic Monthly
A new Commissario Guido Brunetti mystery by the bestselling author of About Face
---
Follow Stories Like This
Get the Monitor stories you care about delivered to your inbox.