Bestselling books the week of 5/6/10, according to IndieBound*
What's selling best in independent bookstores across America.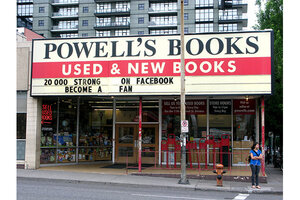 ilovemypit/Flickr.com
HARDCOVER FICTION
1. The Help, by Kathryn Stockett, Amy Einhorn Books/Putnam
2. The Double Comfort Safari Club, by Alexander McCall Smith, Pantheon
3. Imperfect Birds, by Anne Lamott, Riverhead
4. Every Last One, by Anna Quindlen, Random House
5. Island Beneath the Sea, by Isabel Allende, Harper
6. This Body of Death, by Elizabeth George, Harper
7. Deliver Us From Evil, by David Baldacci, Grand Central
8. Major Pettigrew's Last Stand, by Helen Simonson, Random House
9. Solar, by Ian McEwan, Nan A. Talese
10. Matterhorn, by Karl Marlantes, Atlantic Monthly
11. The 9th Judgment, by James Patterson, Maxine Paetro, Little Brown
12. The God of the Hive, by Laurie R. King, Bantam
13. Beatrice and Virgil, by Yann Martel
14. Anthill, by E.O. Wilson, Norton
15. Lover Mine, by J.R. Ward, NAL
---
Follow Stories Like This
Get the Monitor stories you care about delivered to your inbox.