Uncovering life behind the burqa
An interview with Zoë Ferraris, author of "Finding Nouf" and "City of Veils"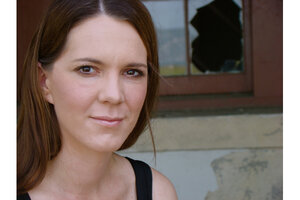 Zoë Ferraris was 20 when she met her Saudi husband. Just after the first Gulf War, the couple spent a year with his family in Saudi Arabia. Since returning home and divorcing, Ferraris has written two murder mysteries – "Finding Nouf" (Little Brown, 2009) and "City of Veils" (Little Brown, 2010) – which offer US readers a glimpse of life in a society where the sexes do not mingle. She recently spoke with Monitor book editor Marjorie Kehe.
You were born in Oklahoma. How did you end up with an insider's knowledge of Saudi Arabia?
I was born in Oklahoma as an Army brat. I grew up all over the country. I ended up in San Francisco and that's where I met my ex-husband [who was a Palestinian-Saudi Bedouin]. He had come here to study English and had just stayed for 10 years. He was a mechanic and he ran a garage here. We met through friends. I fell madly in love with him and I was also completely fascinated with Muslim culture in general. Growing up on Army bases in the 1980s, we had this idea that someday we were going to go to war in the desert. The Russians were the bad guys at that time but the Arabs were the mysterious next enemy. So there was this kind of mystique about Arab culture. And I didn't know anything about it. So I kind of fell for the mystique. Being with an Arab man was like a front-level education. Everything became so real and so personal. I'm still fascinated by it, frankly.
---