Interview with Kathryn Bolkovac, author of "The Whistleblower"
Kathryn Bolkovac talks about sex trafficking, military contractors, and her book "The Whistleblower."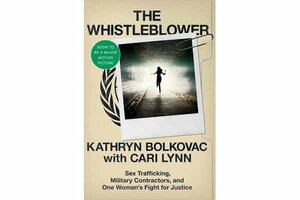 How far would you go to defend justice? Would you risk your job – and perhaps even your life? Kathryn Bolkovac did just that when, while working as a human rights investigator for the United Nations peacekeeping mission in Bosnia, she discovered that some of her UN colleagues were involved in human trafficking. Here are excerpts of a conversation I had with her about her book The Whistleblower and her experiences in Bosnia.
What drew you – a divorced mom of three living in Nebraska – to work in Bosnia?
My grandfather was Croatian. He came to the US in the 1920s. I always had kind of an interest in that area of the world. Over the years I had some traumas take place in my own life, and I divorced for the second time while I was a police officer and just found that I was ready for a change.
So when this [recruitment] flyer came along from [military contractor] DynCorp to our police department I decided to give it a try. It was a kind of adventure and good way for me to support my children while they went to college and also to build my own résumé.
The situation you describe working as a peacekeeper in Bosnia is almost fantastical. There were 2,000 police officers from 45 countries trying to operate as a unified force. What was that like?
Some of these officers come from really underdeveloped countries and didn't know how to use the computers or drive. So we were not only mentoring the local Bosnian police on democratic principles but we were also teaching police coming from some of the UN nations how to do tasks like drive, write reports, use computers.
---