Interview with Daniel J. Sharfstein, author of "The Invisible Line"
In "The Invisible Line," law professor Daniel J. Sharfstein uses the stories of three families to explore the fluid nature of racial identity in America.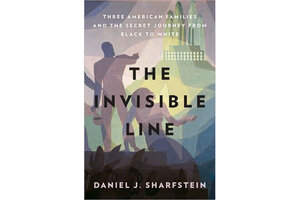 Race has never been an easy concept in this country; the rigid constructs by which people judge black and white have always left room for individuals who could move across either side of the line. Today, more Americans are choosing to identify as multiracial; that segment of the population has grown 35% since the 2000 Census.
Exhibit A: The president of the United States, who has a white mother, but chooses to identify himself as African American.
Vanderbilt University Associate Law Professor Daniel J. Sharfstein analyzes the constantly evolving perceptions and experience of race in his new book The Invisible Line: Three American Families and the Secret Journey from Black to White. Sharfstein uses his legal background to fill in the shades of gray and highlight an American experience, which for many changed with the stroke of a pen, or with hair dye.
6 classic novels to celebrate black history month
I recently had a chance to talk with Professor Sharfstein about his book and questions of racial identity in America.
What prompted you to look deeper into this idea of racial constructs as a choice?
In '93, when I was still in college, I volunteered on a voter project while I was in South Africa. People [I worked with] said to me that the government had classified them as African, all except for one who was classified as Colored. "I'm as African as everyone else," she told me. But when the first census was taken, the constable who assigned class to citizens knew this woman's dad … and out of respect for her father, changed their designation from African to Colored. From "A" to "C." That one word – just one letter – changed her life dramatically.
Race was supposed to be concrete. To see how categories could bend … was really a revelation to me. I returned to the States wondering if that had happened here.
Why view this story through a legal angle?
---