Literary cats: How many of these famously bookish felines do you know?
From detective cats to healing cats to library cats, felines have earned their own peculiar niche in literature. How well do you know the furry beasts of the book world? Can you match cat to quote?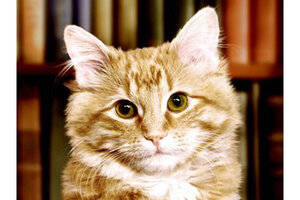 Question 1 of 4
1.

Which good-looking feline inspired this paragraph of praise?

"He's beautiful, yes, but more than that he's relaxed. He has no fear in front of the camera, no confusion about what's going on. His eyes are wide and clear. His fur is perfectly groomed… He's a young man getting his college graduation photograph taken or a sailor getting a memento for his girl back home before shipping off on his first tour. His posture is remarkably straight, his head cocked his eyes staring calmly into the camera. I smile every time I see that photo because he looks so serious. He looks like he's trying to be strong and handsome but can't quite pull it off because he's so darn cute."
Pewter, the cat sleuth of "A Purrfect Murder" by Rita Mae Brown

Dewey, the literary icon of "Dewey: The Small-Town Library Cat Who Touched the World," by Vicki Myron

The cat-philosopher of "Jasper" by Michelle Groce

Norton, the urbane feline of "The Cat Who Went to Paris" by Peter Gethers