The Complete Peanuts:1979-80
Charles Schulz's iconic imps leave the '70s behind and embark on a new decade of laugh-out-loud antics.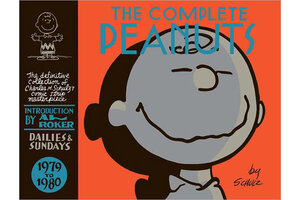 The latest volume of The Complete Peanuts: 1979-1980 continues with Charles Schulz's herculean output of his beloved comic strip. Schulz supplies the customary laughs in stand-alone gag strips and some short "continuing" storylines.
Here are some of the highlights of this volume:
– Charlie Brown ends up in the hospital, to the dismay of the rest of the cast. Lucy is surprisingly so upset she even promises not to pull out the football from Charlie Brown if he gets better.
– Charlie also gets lost in the woods with the newest member of Snoopy's "Beagle Scouts," girl bird Harriet. He is eventually "rescued" by Peppermint Pattie, Marcie, and Snoopy.
– It turns out that Charlie Brown's dad owns a barber shop (something that I didn't know although maybe I missed it in previous strips.)
– Peppermint Pattie has an eventful two years in this volume, crusading for women's equality in sports, suing the school over a leak in the roof that drips on her head, attempting to "dress like a girl," and even finding romance with a certain unkempt cast member.
– Snoopy keeps busy playing tennis and golf; wandering the French countryside as a WWI flying ace; starting his own airline with Lucy, Linus, and Marcie as his staff; and hiking with his "Beagle Scouts."
– Linus is still awaiting a visit from the "Great Pumpkin."
Charlie Brown's sister, Sally is my personal favorite. Whether she's trying to do her homework or reading a report in front of her class you can count on her to deliver the zingers.
---