Walt Disney's Mickey Mouse Vol. One: "Race to Death Valley"
The first book in a new series collects the epic comic strip adventures of Mickey Mouse – as an action hero?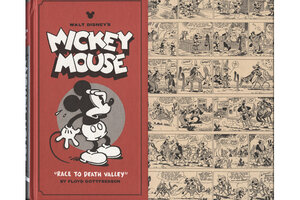 When we think of Mickey Mouse today we see the friendly, benign Disney icon. But in the depression-era 1930s, the mouse was a mischievous, adventurous rascal. With his on-screen popularity booming, King Features Syndicate approached Walt Disney with the idea of a daily comic strip for Mickey. Disney (who had always wanted to be a comic strip cartoonist) jumped at the idea and – collaborating with artist Ub Iwerks – Disney quickly launched Mickey Mouse in daily newspapers across the country.
The comic strip took some time to find its true voice as several artists drew the strip and Disney's involvement waned, until it found "the" artist (who eventually plotted the stories as well) – Floyd Gottfredson. Hired by Disney to be the "temporary" artist about 4 months into the strip, Gottfredson remained as artist for the next 45 years. It's Gottfredson's imagination and artistry as a comic creator that made the Mickey Mouse strip a comic masterwork that is vigorously sought after by fans and comic historians. Only portions of the strip have previously been reprinted, mostly in Europe, but this new series promises to start with the daily black and white strips beginning in 1930 and reprint the entire series.
This volume – the first in the series – starts with the serialized adventure dubbed "Race to Death Valley" which is a bit rough around the edges as the strip tries to find its rhythm but soon takes off into a wild adventure involving a haunted house, a lost will, a mysterious cloaked figure, and a thrills-and-chills race to a lost mine. Other adventures in Volume One include a nefarious suitor, a feline moonshiner, Mickey's attempt to become a boxer, kidnappers, and a stint on a desert island.
---