"Nothing Daunted" – a Q&A with Dorothy Wickenden
Dorothy Wickenden talks about how her grandmother and her best friend – society girls from the East – headed West for adventure in 1916.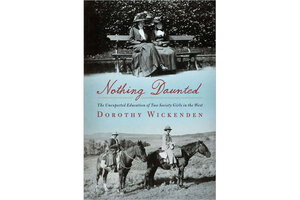 One day Dorothy Wickenden came across a stack of forgotten family letters penned by her grandmother Dorothy Woodruff in 1916-17. That year Woodruff, a restless debutante from a wealthy Auburn, N.Y., family, convinced her best friend, Rosamond Underwood, to move with her to Elkhead, Colo., so they could become rural schoolteachers. (Both young women were Smith College graduates but neither had really ever expected to work. "No young lady in our town," Woodruff would later recall, "had ever been hired by anybody.")
Dorothy and Ros stayed for a year, which Ros would later recall as the best of their lives. They boarded with a family of homesteaders and taught in a stone schoolhouse from which they daily watched "cowpunchers ... tearing around the schoolhouse and down the hill at breakneck speed." They rode to work on horseback, cohabited with wild animals and desperados, and learned to cope with blizzards and students – mostly kids from hardscrabble homesteading families – who sometimes could only reach school by skiing there on barrel staves.
Wickenden, who is also the executive editor for The New Yorker, has written about her grandmother's real-life adventures in Nothing Daunted: The Unexpected Education of Two Society Girls in the West. She recently spoke with me about her book.
---