Obama's summer vacation reading list
President Obama kicked off his vacation with a trip to a Martha's Vineyard book store. What's Obama reading?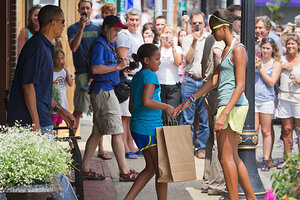 Carolyn Kaster/AP
On his first day of a 10-day vacation on Martha's Vineyard, President Obama and his daughters hit the Bunch of Grapes bookstore.
He emerged with four to six books, according to The Los Angeles Times and other media outlets. At least two books were for his daughters. Thirteen-year old Malia has Aldous Huxley's "Brave New World" on her private school's summer reading list. Sasha, age 10, was carrying a book called "Frost."
The only other two books identified by media reports were "Room" by Emma Donoghue, and "The Bayou Trilogy" by Daniel Woodrell.
"Room" is the story of an abducted mother being held prisoner in a soundproof room by a sex offender. It's told through the eyes of her five-year old son, who is also a prisoner.
While the story echoes the real-life abduction of Elizabeth Smart, The Christian Science Monitor's reviewer wrote "there's nothing lurid or prurient about this story of a young mom who is determined to create the best life she can for her son, no matter how horrifying her circumstances."
The book was short-listed for the 2010 Booker Prize.
---