Maurice Sendak scares parents with new book
Maurice Sendak has released his new book, 'Bumble-Ardy'. As with 'Where the Wild Things Are', some parents are not sure it's a children's book.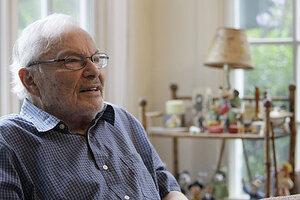 Mary Altaffer/AP
Maurice Sendak has been called "one of the most important, if not the most important, writers and artists to ever work in children's literature."
The famous author and illustrator, best known for his celebrated books "Where the Wild Things Are" and "In The Night Kitchen", has released a new children's book about a pig's chaotic birthday party. It is the first book he has both written and illustrated for 30 years. "Bumble-Ardy" follows a 9-year-old orphan pig named Bumble who throws the ultimate birthday-cum-costume party at his aunt's house while she is away. Bumble has been deprived of birthday parties his entire life so this party is to make up for all the birthdays he never had.
The Brooklyn-born author spoke with the New York Times from his Connecticut home saying that he has been working on the "Bumble-Ardy" book for two-to-three years, but the first incarnation of the story was actually for a Sesame Street episode in 1970. That episode featured an animated short that played on the rhyme between nine and swine and depicted a boy celebrating a raucous ninth birthday.
Sendak's work has a history of resonating with children more than with some of their parents. "Where the Wild Things Are," and many books that followed, had some parents saying they were too scary for young children.
---