When E.B. White is also Grandpa
E.B. White granddaughter Martha keeps loving watch over a unique literary legacy.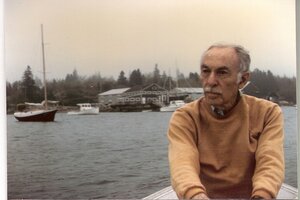 Courtesy of the estate of E.B. White
Readers around the world know the late E.B. White as the author of classic children's stories such as "Charlotte's Web" and "Stuart Little;"; or as one-half of the writing team, with William Strunk Jr., of "The Elements of Style"; or as the man who, from his farm in Maine, wrote some of the most graceful essays in the English language.
But for another Maine writer, E.B. White was also Grandpa.
Martha White has extended her grandfather's literary tradition by working as a writer and editor, with freelance gigs for publications as varied as The New York Times and Family Circle. She was also an editor and writer for the publisher of The Old Farmer's Almanac and is the author of a book about home remedies for common ailments.
But Martha also keeps busy as her grandfather's literary executor, a job that routinely consumes a week of every month. She's edited a revised edition of E.B. White's correspondence, and she's also compiled and edited In the Words of E.B. White, a collection of his quotations that's recently been published by Cornell University Press.
The new project is part of a series from Cornell in which the most celebrated words of famous thinkers are excerpted in book form. E.B. White, a Cornell graduate who died in 1985, seemed a natural for the series, although Martha wasn't so sure at first.
---