From our Files: Maurice Sendak interview, 2002
Maurice Sendak, self-taught artist and author of "Where the Wild Things Are" (1963), would eventually write or illustrate over 90 books, beloved by generations of children into adulthood. Sendak, who died today, spoke with Monitor reporter Gloria Goodale on the occasion of an exhibit of his artwork at Los Angeles' Skirball Cultural Center in 2002. He spoke about his personal history growing up in Brooklyn amidst the tumult of family upended after World War II; his escape into an inspired, illustrated world; and his expansion into musical and opera collaborations.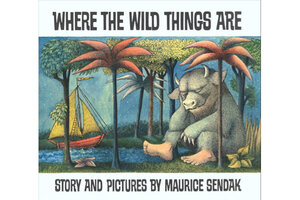 HarperCollins / AP
The wild one
"Just some kiddie book artist." That's the label Maurice Sendak, author, artist, and opera designer, fought against for years.
For generations of children who are now parents and grandparents, author and illustrator Maurice Sendak inhabits a special realm where the demigods of our youth have gone to live.
Simply put, he changed the lives of children around the globe with his stories about Max who wouldn't eat dinner, and Rosie who bossed everyone from her front stoop, and Pierre who could only say I don't care.
These were not the sugarcoated tots of our parents' kiddie books. These were cantankerous, lively, mischievous beings that many among us believed finally told the real stories of how we lived and felt as young children.
When "Where the Wild Things Are" was published in 1963, it caused a furor. Librarians banned it for being "too frightening" and psychologists condemned it as "too dark." But children embraced it and the story about the boy who went to rumpus with the Wild Things changed not only their lives, but the literature forever.
"He made his mark both by being a very good artist and breaking down the taboos that had characterized children's books," says art critic and author Leonard Marcus. "The emotional range he brought was unprecedented."
---