Orhan Pamuk's Museum of Innocence opens in Istanbul
Orhan Pamuk's Museum of Innocence, based on his 2008 novel, houses thousands of objects that evoke the atmosphere of 1970s Turkey and enshrine ordinary life.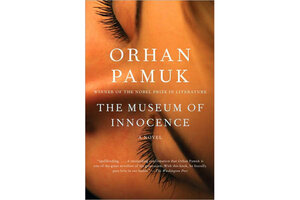 Nobel laureate and Turkey's most famous living author Orhan Pamuk recently opened his Museum of Innocence in Istanbul's Çukurcuma neighborhood. Housed in a wine-red, four-story building constructed in 1897, the museum takes its name from Mr. Pamuk's 2008 novel of the same name and is a tribute to the "profane magic" of Turkish everydayness, featuring 83 display cases (one for each chapter of the book) filled with ordinary objects drawn from the novel.
The first display greeting the visitor to the museum is the "cigarette wall," which showcases 4,213 cigarettes smoked by Füsun, one of the characters in Pamuk's novel. The exhibit is accompanied by a film reel, shot by Pamuk himself, showing a woman's hand movements as she smokes and taps her cigarette, and beneath each cigarette stub is a handwritten note about the day in which it was stolen; "Earthquake," reads one such inscription.
Writing in the Guardian, Pamuk described the perspective visitors should adopt when viewing the objects on display: "Visitors to my Museum of Innocence must compel themselves … to view all objects displayed therein – the buttons, toys, Füsun's combs, tickets and old photographs – not as real things in the present moment, but as my memories." Pamuk has also emphasized that not all the display panels are complete: The New York Times quotes the author saying, "I will add a new episode to the story, new objects, new ideas, new little exhibitions by other artists."
---