Long Shot
In 'Long Shot,' 12-time all-star Mike Piazza recounts his unlikely path from suburban Philadelphia to the big leagues and even how it led to a trip to the Vatican.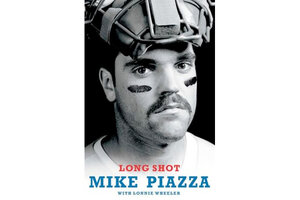 Surely Mike Piazza is the only baseball player who has done all of the following: met the pope, had Ted Williams visit his backyard batting cage, assisted the Italian baseball federation, and hit a memorable post-9/11 home run in New York City. Piazza also is probably the greatest hitting catcher of all-time. Yes, better than Yogi Berra and Johnny Bench. He makes his case with a .308 lifetime batting average and 427 home runs, the most ever by a big-league catcher.
On the surface, then, he would seem a lock for the Hall of Fame. But there aren't any surefire inductees among modern sluggers, all of whom confront suspicions, founded and unfounded, about possible drug use.
In Long Shot, Piazza vehemently denies having ever taken performance-enhancing drugs while acknowledging his use of all sorts of dietary supplements. The Hall of Fame balloting for this year's class, the first for which he was eligible, suggests that most voters take him at his word and recognize his playing credentials. Although he didn't receive 75 percent of the votes required for election, he did get 57.8 percent compared with only 36.2 percent for Barry Bonds and 16.9 percent for holdover candidate Mark McGwire. And it wouldn't be surprising to see him do better in future elections as some voters, reluctant to usher in a first-year candidate, may be more inclined to reconsider Pizza's track record.
---