Hope for Animals and Their World
Famed naturalist Jane Goodall cries out on behalf of Earth's animals.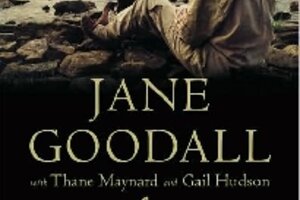 Throughout the course of her 75 years, Jane Goodall has communed with humankind's closest wild relatives and watched them, as a species, tumble almost to oblivion. Along with chimpanzees, with which her name is famously synonymous, Goodall has witnessed the forces of modernity push dozens of other animals to the edge of their vanishing points.
For Goodall, both hubris and tragedy reside in the fact that extinctions are being allowed to happen. The question is: What to do about it?
In her new book, Hope for Animals and Their World: How Endangered Species Are Being Rescued from the Brink, there's a take-home response.
Dreaming of a better world, Goodall notes, does not mean abandoning feelings of visceral anger; nor does it mean getting caught up in the despair and helplessness that would resign us to perpetual gloom. Although she recognizes that some eminent scientific authorities believe that we are experiencing Earth's sixth major extinction episode, Goodall refuses to capitulate. "To keep up my spirits when I was tired and things seemed extra-bleak," she explains, "I made a collection of what I call my 'symbols of hope.' "
With the help of co-authors Gail Hudson and Thane Maynard (director of the Cincinnati Zoo and host of NPR show "The 90-Second Naturalist"), Goodall has turned these "symbols of hope" into a book.
---