Classic book review: Libra
More fiction than fact, this novel replays the JFK assassination.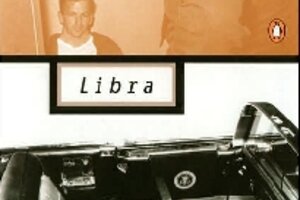 [This review from the Monitor's archives originally ran on Sept. 12, 1988.] The plot of Libra, Don DeLillo's ninth novel, is the plot that led to the assassination of John F. Kennedy that Friday in November almost 25 years ago. Not that DeLillo claims to have unearthed the "real'' plot, if indeed there was such a thing.
But clearly he believes there was a plot and has used this novel as a kind of space station - free from the constraints of earthbound historical veracity, yet still bound by ties of gravity (and gravitas) to many of the known facts of the case - from which to launch his experimental speculation.
Roughly summarized, DeLillo's thesis is that a handful of semiretired CIA agents who were involved in the disastrous Bay of Pigs invasion come up with a plan they hope will galvanize America into some sort of strong and decisive action against Castro's Cuba. The plot is to have someone who can be tied to Cuba attempt to shoot the President. The attempt must look convincing, but the gunman is to miss. Lee Harvey Oswald with his record as a Marine sharpshooter, his confused leftist sympathies, his sojourn in the Soviet Union, and his Fair Play for Cuba committee fits the profile. Somewhere along the way - deliberately, it seems - the instruction to miss the President gets left out. It becomes a plot to kill the President.
---