When China Rules the World
Is China set to displace the US as the new global superpower?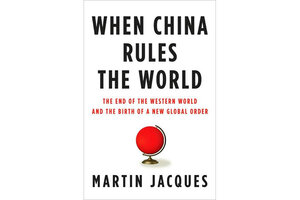 Experts agree that China's economy appears likely to become the world's largest within two decades. But in the provocatively titled When China Rules the World, British journalist Martin Jacques goes much further.
He argues that within 50 years China will quite likely become an economic, political, and cultural colossus, displacing the United States as the world's leading power. As a correspondent in China in the 1980s and '90s, I learned how difficult it is to predict this vast country's future. Anything other than short-term predictions can go badly wrong.
I do agree with Jacques, however, that China's rapid economic growth and its embrace of a new brand of capitalism do not mean that the country is adopting Western values. Jacques asserts that China's economic growth, global trade ties, and creation of a middle class are unlikely to lead to anything like Western-style democracy, much less a free press and rule of law. And so far, many – although not all – in the growing Chinese middle class appear out of self-interest to have accepted the one-party state and the limits that it imposes.
Recent headlines tend to support Jacques's predictions. China bounced back from the worldwide financial meltdown more strongly than any major nation, has just overtaken Germany as the world's No. 1 exporter and is now No. 2 in car production. China's growth rate is expected to exceed 8 percent this year.
But Jacques may overestimate China's ability to innovate and may underestimate the impact China's aging population could have in dragging down the country's economic growth.
---