Living Oprah
A writer spent a year asking herself: What would Oprah do?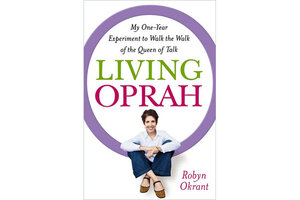 For the year 2008, Robyn Okrant will OBEY – Oprah Winfrey.
Oprah is a cultural phenomenon. Her general influence as a source of inspiration and advice (especially for women) is so pervasive that it obscures the impact she might have upon individual lives, which is exactly the subject Robyn Okrant explores in Living Oprah.
In her twist on Jim Carrey's role in the movie "Yes Man," Okrant, a 35-year-old yoga instructor and theater artist, undertook a yearlong social experiment of saying "yes" to every Oprah-ism, whether as an examination of the psychodynamics of Oprah, or merely a test of her own endurance. If "the Alpha girl in the pack" suggests abandoning ceiling lights and filling your home with mellow overhead lamps, Okrant redecorates. If Oprah recommends a particular 30-minutes-a-day exercise routine, Okrant buckles down. "Living Oprah" includes monthly expense charts, detailing the fiscal costs of blind obedience to a much-loved television guru. (The expenses run from $250 to $700 dollars a month.)
Okrant was not a dedicated fan before she conceived her project. "I was not an everyday Oprah viewer. I did not read her magazine, or peruse her website. Until I began this project, I would have considered myself only a casual audience member." But she focuses on the Oprah Winfrey show because it stands "at the pinnacle of the self-improvement, popular culture mountain. Oprah teaches us how to live."
---
Follow Stories Like This
Get the Monitor stories you care about delivered to your inbox.