Into the Story
From Bill Clinton to Vince Lombardi, a collection of the best from journalist David Maraniss.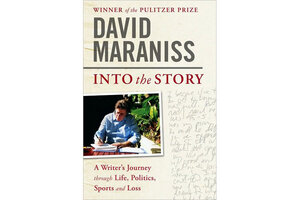 Biographer and historian David Maraniss made his reputation following Bill Clinton during the 1992 presidential campaign. Since then, his subjects have ranged from nightmare attacks in the Vietnam War to Wilma Rudolph, Rafer Johnson, and the other central characters in the 1960 Olympic Games.
His latest book, Into the Story, samples and chronicles the major subjects of Maraniss's career. Most come from his two main occupations as a roving editor at The Washington Post and as a bestselling author.
Maraniss bills these pieces as stories of life, politics, sports, and loss. The more personal pieces – the unexpected death of a sibling, his brother's Pulitzer Prize-winning opera – are heartfelt.
A few shorter sketches in this collection fail to connect with the same force as his conventional subjects, but, overall, Maraniss is a master of his craft.
This book is a sampler of his work, filled with many outstanding portraits, starting with Clinton and extending to Roberto Clemente as Maraniss flip-flops between politics and sports. When Maraniss slips, it's either because he's dashing off a shorter piece – his writing gains momentum when he can pile up the details and insight, but he often struggles with limited scope – or because he falls for childhood and baby boomer tropes (as with a clichéd profile of Muhammad Ali that sheds little new light on his persona).
---