Unfinished Desires
A dark, sharp addition to the ranks of fiction set in high school.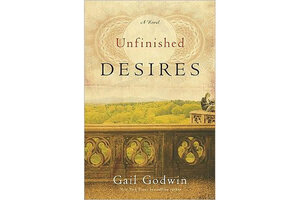 The entertainment industry does a roaring trade with stories of high school. Just look at the success of movies like "Grease," "The Breakfast Club," and "Mean Girls," or most recently, the "High School Musical" franchise. It's even seeped into the book industry through Harry Potter and the Twilight book series. (Granted, vampires and wizards are a new addition to the high school scene, but I suppose times change.)
Viewing it through the lens of a 1950s Catholic girls' school in the Appalachians is a new riff on the high school story, but Gail Godwin's intriguing novel, "Unfinished Desires," is a darkly graceful addition to the pantheon. Godwin skillfully portrays the drama and intricacy of teenage relationships, though the climax of the story might leave you a little flat.
Domineering nun Mother Suzanne Ravenel has run the show at Mount St. Gabriel's for over 50 years. In 2001, a handful of former students asks her to record a memoir of the school, since she is the "walking deposit box of what's left" as the longest resident of Mount St. Gabriel's. In telling her story, Ravenel must confront and confess a host of personal demons, most notably the "toxic year" of 1951-52 after which several freshman girls were expelled and Ravenel took a mandated leave of absence.
---