Homeland
Barack Obama's half brother, George, tells his own story of coming of age in a Kenyan slum.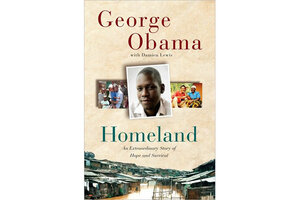 George Obama has, by choice, lived much of his 28 years in a slum in Nairobi, Kenya. His older brother by 21 years is currently president of the United States.
Barack Obama has never lived in a Kenyan slum. The two men, however, share a father, Barack Obama Sr. He died before George turned 1 year old. But his paternity, obviously, links the half brothers. Barack Jr. and George have met face to face only twice – when George was a 5-year-old schoolboy, and whenBarack Jr. was serving in the US Senate before ascending to the White House.
The blood relationship between George and Barack Jr. seems at first like a thin reason for Homeland, a nearly 300-page memoir by a man who has not reached age 30. A potential reader would certainly remain inside the realm of logic by supposing George has published a book simply to capitalize financially on his brother's becoming US president.
It turns out, however, that the memoir, written with assistance from journalist Damien Lewis, is worthy for lots of reasons. The blood relationship with Barack is way down on the list of those reasons. The memoir stands on its own nicely as a coming-of-age story set in an African nation.
---