Daring Young Men
Richard Reeves chronicles the courage and resolve that drove the Berlin Airlift.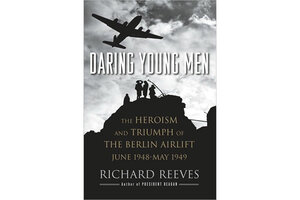 At the end of World War II, Berlin was a ruined city. Located entirely within what would become East Germany, Berlin was divided into four zones with the Soviets in the eastern sector and America, Britain, and France in the western neighborhoods. A quiet, if very uneasy, truce prevailed until July 1948 when Soviet dictator Joseph Stalin abruptly blocked access to the city. By making it impossible to resupply Berlin, Stalin hoped to force the Allies to leave.
President Truman's key advisers – including Secretary of State George Marshall and Secretary of Defense James Forrestal – wanted to pull out. But Truman, already attacked as soft on communism, simply said: "We stay in Berlin. Period."
Without rail, highway, or canal access, the only way to resupply the city entirely was by air. And so the Berlin Airlift was born.
Nobody thought that this would be a long-term project. The idea was for America and Britain to buy time, perhaps as much as two weeks, while negotiating with the Russians. Instead, the airlift lasted 324 days before Stalin backed down.
---