A Mountain of Crumbs
A writer recalls a Soviet childhood, lived at the height of the cold war.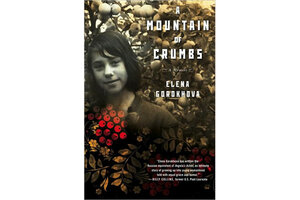 Like "Angela's Ashes," the memoir of her one-time teacher Frank McCourt, Gorokhova's A Mountain of Crumbs opens with a wish that youth had been an easier enterprise." Both tales rest largely on childhood depredation, whether in famished Ireland or socialist Russia, and the cataloging of both personal and national grievances, leavened with wistful humor, is a modus operandi Gorokhova clearly learned from her acclaimed mentor. They also share an unabashed longing for America, where both would eventually find themselves.
Despite Gorokhova's debts to McCourt, "A Mountain of Crumbs" is not a Russian version of "Angela's Ashes." Gorokhova may lack McCourt's lush storytelling skills, but her book is also free – thankfully – of his sugary sentiment. "A Mountain of Crumbs" is a straightforward account of Russia in the postwar decades, one that takes the reader confidently through the slow sinking of the Soviet ship. Like despotic Russian Prime Minister Vladimir Putin, Gorokhova was born in Leningrad in the early 1950s and came of age during the cold war. This memoir offers valuable insight into those bleak years bracketed by Khrushchev and Afghanistan, from which the nation emerged with the bruised ego it has since aggressively sought – under Putin's guidance – to burnish.
---