The Strong Horse
A journalist argues that inter-Arab conflict is the central crisis of the Middle East.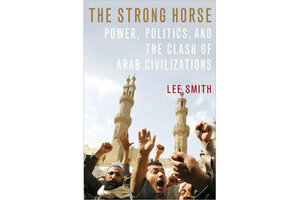 With fists raised and mouths agape in apparent discontent, the several men gathering outside a mosque compose just a fraction of the unruly mass mobbing the local streets. Are they protesting or rejoicing? Either way their strained looks and fist-pumping fervor do not bode well for the photographer snapping this image only a few feet away.
This scene is the cover photo of Lee Smith's The Strong Horse: Power, Politics, and the Clash of Arab Civilizations. After eight-plus years of United States military involvement in the Middle East, this snapshot might seem accurate enough to the casual book browser. Disgruntled demonstrators nestled below minarets, protesting some injustice unbeknownst to the viewer, may seem to standard fare to some American readers, many of whom are tired of hearing about soldiers from Kentucky, Vermont, Texas, and California being bloodied and maimed on the other side of the world.
But just pages into the introduction, Smith, who is the Middle East correspondent for the Weekly Standard, shatters the stereotype evoked in the jacket's photograph by stating that, "I give no credence to the idea that the Arab-Israeli crisis is the [Middle East's] central issue." Just one of a number of provocative assertions, Smith wastes little time in introducing a reexamination of Middle Eastern history that calls into question even the most conventional of American and Western beliefs.
---