Our Times: The Age of Elizabeth II
The country Elizabeth II once knew exists no more, says a historian.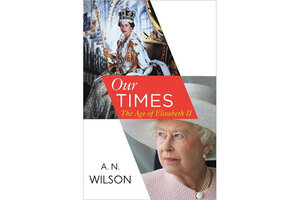 A.N. Wilson begins Our Times: The Age of Elizabeth II with a disclaimer, telling readers that his book isn't really about the current queen of England, although it covers the years of her reign, which began in 1952 and "might well rival that of Queen Victoria in longevity."
But even though it isn't a royal biography, Wilson's book uses Elizabeth II's years on the throne as a convenient window into the evolution of modern Britain, a period of change that the author finds breathtaking.
Wilson's topic is broad, but he's accustomed to working on a large canvas. "Our Times" is the third volume in a trilogy of British history that began with "The Victorians" and was followed by "After the Victorians," the entire series produced in just six years.
One of the reasons that Wilson can move quickly is that he isn't exhaustively inclusive. Subtracting notes and pictures, the text of "Our Times" comes in at around 400 pages – less than 70 pages for each of the six decades covered in Wilson's narrative.
Using pop culture to illuminate an era
A novelist and biographer whose works have included studies of John Milton, C.S. Lewis, and the apostle Paul, Wilson proves especially adept at using popular culture to explain the past. The intrigues of Parliament, No. 10 Downing Street, and Buckingham Palace get their due in "Our Times," but Wilson does his best work here in holding up a period book, song, or TV show like a bright shard to imply the era's larger whole.
---